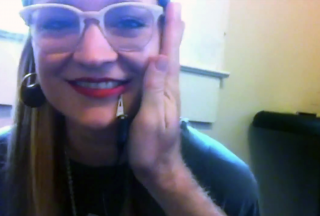 Introduction
Quickly make a banana, a beverage, your bed frame, a spanking paddle, or even your sex partner into a touch-sensitive controller for your dildo! Synchronize the pleasurable feelings of a metal head massager with your dildo, or play your lover's body like a theremin!
Turn Your Partner into a Sensor!
You can find more creative ways to use capacitive touch by incorporating a partner! We simply attached a clip to standard metal body jewelry (Melanie's ring). You can use all sorts of body piercings as conducting elements for capacitive touch sensing. Notice how proximity works!
You can create multiple variations in the intensity of your Mod's vibrational patterns given the type of contact you make with the sensing device! Try out different types of piercings (nose, ear, genital) and discover the different types of responses you get when the electrical capacitance penetrates your body differently! (FYI we're co-workers not partners! Just demonstrating!)

(more…)